Love Island 2018: here's what actually happened on Georgia and Jack's date
Georgia insists she didn't go in for a kiss with Jack, saying, "He came to kiss me". But who's telling the truth?
So, what exactly happened on Georgia's date with Jack on Love Island?
Friday night's episode saw Laura confront Georgia about making moves on her man, after Jack reveals that he went "in for a kiss on her cheek and she came towards me straight on and she kissed me on the lips."
Laura, left fuming by Jack's revelation and saying she is "done" with Georgia, confronts her over the date. Georgia however says that she is "not ever going to jeopardise" her friendship with Laura in the villa, and that she definitely didn't kiss Jack.
Later on Georgia remains adamant she didn't go in for a kiss on their date.
"I don't graft anyone," says Georgia. "He came to kiss me."
But what ACTUALLY happened on Georgia and Jack's date? Well a quick re-watch of Thursday's episode throws up this: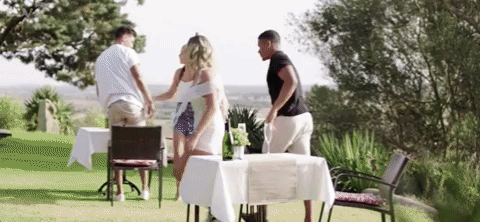 If a picture tells a thousand words, a GIF must say about a million. Although there's just one word that probably sums it up best: snakey.
From the looks of it, Jack does go in for a bit of cheek, while Georgia has the cheek to grab his face and go in for not one but two kisses – despite him pulling away.
Georgia later says that although the date with him is out of the blue, she wanted to go with someone who makes her laugh.
"I did speak to Laura; obviously she has been one of my best friends in this villa," she says. "However I have come in here to find somebody that I do want to leave with, and I've learnt from what happened with Josh that I want to leave with someone who makes me laugh as much as I make them laugh."
Jack doesn't come out of the whole thing entirely smelling of roses, at one point describing Georgia as "attractive" before adding: "I think if there was ever a girl in there who would turn my head it would be you. You are fit and we do get along so there's no denying that."
Watch Jack and Georgia's date again below, and see whether you're #TeamGeorgia or #TeamLaura.
Love Island continues tonight at 9pm on ITV
---
---