Meet the cast of London Spy
Who's who in the gripping new spy drama...
London Spy sees Tom Rob Smith, writer of Child 44, bring us a subtle, insidious, modern urban tale. Starring Ben Whishaw, Jim Broadbent and Charlotte Rampling, the BBC2 spy drama tells the tale of aimless Danny and his mysterious partner Alex, whose disappearance opens up a world of espionage.
But who plays who? And how does this web of characters fit together? Meet the cast of London Spy…
---
Danny – Ben Whishaw
Danny is a hedonistic clubber, a young romantic who has found himself adrift, lonely and looking for answers. His solution seems to come when he falls hopelessly in love with Alex, but Danny finds his world turned upside down when his partner disappears. Writer Tom Rob Smith explains that "Danny has had his heart broken many times already and the death of Alex seems to confirm a powerful fear that any intimate relationship is doomed. That is why Danny must fight: if he can prove that the Alex he knew – decent and genuinely looking for love – was the real Alex, then he can prove to himself that intimacy does not necessarily end in despair."
Ben Whishaw has been in the spotlight for the past decade, earning rave reviews for his performances in TV, film, and theatre. Having risen to prominence for his 2004 role playing Hamlet at the Old Vic, recent projects have taken him from gritty 1950s London in BBC drama The Hour, to fighting for women's rights in Suffragette, to geeky gadget designer Q in James Bond. He also voiced Paddington in the 2014 film, and starred as Richard II in the BBC's Hollow Crown Shakespeare plays – a performance which won him a Bafta for leading actor.
---
Alex – Ed Holcroft
Alex is ostensibly Danny's polar opposite: anti-social, profoundly shy, and awkward. However, behind his handsome façade lies a potentially dark and disturbing secret. When Alex disappears, he leaves behind a series of clues that will draw Danny into a world he is not prepared for.
Holcroft will be familiar to fans of BBC drama as George Boleyn in Wolf Hall, but he has previous espionage experience as the arrogant Charlie in Kingsman: The Secret Service. He also played Duncan Forbes in Lady Chatterley's Lover, and recently made headlines after he was snapped on the arm of Prince Harry's ex Cressida Bonas.
---
Scottie – Jim Broadbent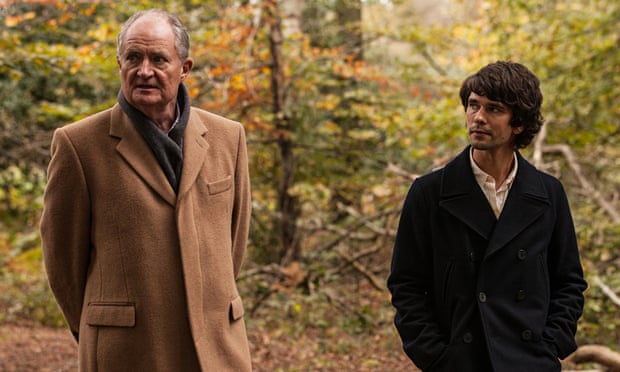 Scottie is elderly, wise and wounded.  A former member of the secret services, he is Danny's closest friend and mentor, a father-figure to the fragile young man.
Broadbent explains that "Initially, he is concerned about Danny falling head over heels in love with this guy," but after Alex's disappearance, "Danny comes to Scottie for advice and help, and Scottie to varying degrees, reluctantly or positively gets engaged." 
Broadbent is a veteran of the screen, having won a Bafta for his role in Moulin Rouge, an Oscar for his performance in Iris, and another Bafta for the title role in the Channel 4 drama Longford. He has also starred in a number of blockbuster hits, playing Dean Charles Stanforth in Indiana Jones and the Kingdom of the Crystal Skull and Horace Slughorn in the Harry Potter series, as well as portraying Denis Thatcher opposite Meryl Streep in The Iron Lady.
---
Frances – Charlotte Rampling
A mysterious yet omnipresent figure, Danny is convinced that Frances has something to do with Alex's disappearance. However, the enigmatic paradox that is Frances remains frustratingly elusive, symbolic of the shadowy world Danny is entering.
Rampling starred opposite Helena Bonham Carter in the multi-award-winning The Wings of the Dove, before being named Best Actress by the European Film Academy for her portrayal of a mystery writer in Swimming Pool. She has also appeared in Hollywood films Never Let Me Go and The Duchess, and was recently seen on UK TV as barrister Jocelyn Knight in the second series of Broadchurch.
London Spy airs on BBC on Monday nights at 9pm