12 things we need to talk about in the Star Wars: The Last Jedi trailer
Will Kylo and Rey join forces? And just what are those arctic foxes?
Stop. Take a deep Vader-like breath. The new trailer for Star Wars: The Last Jedi is here. And. It. Is. Awesome.
From new aliens to (possible) changing alliances, there are plenty of shots to revisit, questions to ask and more gasps to be had. Here are the key talking points…
1." When I saw you I saw raw untamed power. And beyond that something truly special"
The trailer starts with this line from Supreme Leader Snoke, apparently referring to Kylo Ren, who we see overlooking a First Order hanger (but of course, Snoke could just as easily be talking about Rey here).
Worthy of note if you're a real geek: You can see AT-STs moving around the interior of the hanger while AT-ATs (the big walkers you saw in the battle of Hoth) are transported on the very left.
2. A closer look at Crait
Much of the trailer centres around Crait, a mineral planet that used to be a Rebel Alliance base in the Galatic Civil War. However, although it's now a Resistance hideaway, the trailer shows the New Order closing in.
With the AT-ATs (well, All-Terrain MegaCaliber Sixes, or AT-M6s to be precise) stomping across a snowy-looking setting and Kylo Ren marching with a squadron of First Order snowtroopers, it all looks very like the Hoth battle in Empire Strikes Back.
But our most important shot of Crait: these new arctic fox aliens. Forget Porgs, what are these and where can we get one?
3. Kylo's (maybe) new lightsaber
We see Kylo picking up his lightsaber in Snoke's throne room, perhaps on the Mega-class Star Destroyer Supremacy (note that you can also see a glimpse of the Elite Praetorian Guards in the background).
Yet we don't quite know when this happens. As we'll see later, there are flashbacks in the trailer, so who's to say this isn't a meeting that happened before the events of The Force Awakens when Ben Solo first became Kylo Ren.
4. Rey's training does NOT go well
Okay, so after Luke takes the lightsaber from Rey (kind of ruins the suspense at the end of the Force Awakens, doesn't it?), we see the two in training. This involves swinging a lightsaber as close to rocks, levitating rocks, splitting rocks and generally a lot of rock-based activity. And it's got Luke irked. He says: "I've seen this raw strength once before. It didn't scare me enough then. It does now."
We're then treated to a flashback of the destruction of Luke's Jedi Temple, with the fallen skywalker emerging from the burning rubble. Is he scared that Rey will go the same way as Kylo?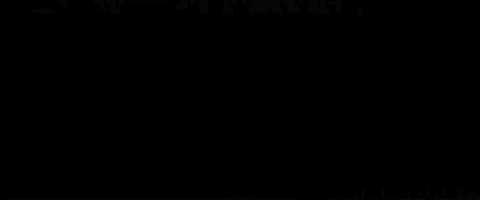 We also hear these words of wisdom from Skywalker later on: "This is not going to go the way you think." So has he rejected training Rey? Or he trying to stop his new padawan from taking on the Dark Side too early (you know, exactly like Yoda does to Luke in Empire Strikes Back).
5. What are those books?
One of the most mysterious shots in the trailer is this misty landscape that confronts Rey. But we might know what that is – we may have seen it in Star Wars comic Shattered Empire. Taking place immediately after Return of the Jedi, the story follows Luke and Poe Dameron's mum, Shara Bey, as they rescue a Force-sensitive tree from the Empire.
The two find it and Luke takes one shard of the bark, with Shara taking the other. Is this where Luke left his part of the tree? And what exactly are those mysterious books he apparently keeps inside? Old Jedi texts? Or something more sinister?
6. Kylo's on the warpath
There's a lot of Kylo in this trailer and as usual he's having a great big identity crisis.
Along with his ominous voiceover ("Let the past die. Kill it. It's the only way you can become what you were meant to be") we see Kylo smashing his helmet, a symbol of his grandfather, Darth Vader. However, we should point out that he lost his helmet at the end of The Force Awakens – unless he's got another one, this could be part of a flashback.
But the giant space battle in the trailer doesn't look like a revisited memory. In it we see Kylo rocking what looks like a Dark Side plaster across his face, healing the wound Rey inflicted on him in The Force Awakens. And he looks distraught, apparently targeting Princess Leia from his special TIE fighter.
Is Kylo prepared to kill both his parents? This look tells us it won't be an easy decision for him…
But we're not sure he'll actually kill off Leia. Earlier this year, Finn actor John Boyega told fans the late Carrie Fisher would be "kept alive in the franchise". What he only speaking metaphorically?
7. Porgs!
Okay, thanks to the mysterious artic foxes, Porgs aren't our favourite Star Wars animal any more. But still, this shot of one freaking out with Chewbacca on the Millennium Falcon is very welcome. It means that Porgs likely have a bigger role in the film than we thought – they were originally an alien on Skywalker's island planet Ahch-To, but at least one of them looks to have joined the Falcon crew.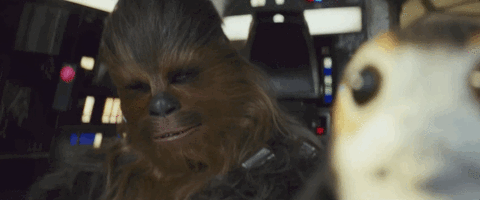 8. Finn v Phasma
Finn's back too! Dressed in an Imperial Officer's uniform, we see the former First Order soldier facing his ex-boss Captain Phasma in a lightning baton duel across a burning landscape. Could this flaming setting be the base we saw at the start of the trailer?
Just to get us more excited, John Boyega took to Twitter after the trailer was released to tease the upcoming battle…
If you've ever had a crappy boss…You'll wanna see this fight…

— John Boyega (@JohnBoyega) October 10, 2017
9. Poe Dameron is back!
Alongside BB-8! The two look to be at the centre of the film's giant space battle, in which BB is hit.
Other than that, we don't see too much from Poe here. But we do hear one of his typically heroic lines: "We are the spark that'll light the fire that'll bring the First Order down!"
10. Rey gets tortured
Here's where things start to get really serious. After we glimpse Snoke in the flesh for the first time, we soon see a shot of a screaming, levitating Rey. And we're willing to bet Snoke is the source of her pain – he's got his hand out on the first shot and his gold robes are visible when we see Rey screaming (circled).
Interestingly, this looks to be taking place in the same room that Kylo picked up his lightsaber (again, you can see the Elite Praetorian Guards in the red background – also circled).
11. Do Rey and Kylo join forces?
Here's the big shocker of the trailer: it wants us to think Rey and Kylo become a team. Rey, apparently in her own identity crisis, says "I need someone to show me my place in all this". And straight after we see Kylo offering his hand towards her. Is a new friendship on the cards?
We're not so sure. It could be that hand is what leads Rey to being tortured by Snoke. And it's not necessarily Rey he's offering a hand to. Judging by that fiery background, he could be helping Phasma (that's less likely, granted).
There's also the theory that the burning setting behind Kylo is the Jedi Temple and Kylo is offering a hand to Luke Skywalker in a flashback. However, although he doesn't have the black plaster, you can see the scar he picked up at the end of the Force Awakens so it seems unlikely.
12. There's no sign of Canto Bight
Interestingly, the trailer doesn't apparently feature any footage from casino city Canto Bight, a setting we know from the behind-the-scenes sneak peek does appear in the film. So where is it? Will it be the centre for the film's climax? Is that why it's being kept hidden?
At least we don't have to wait too long to find out…
Star Wars: The Last Jedi is in cinemas 15th December 2017