When will the Downton Abbey movie be released in cinemas? Who's in the cast, and what could happen?
Hugh Bonneville, Michelle Dockery and Maggie Smith are inviting us back to Downton Abbey – but how will the story move on from the TV series?
When is the Downton Abbey movie set to be released in cinemas? Who from the original cast is returning? And what could the new instalment be about?
Here's everything we know so far about the hit ITV drama's move to the big screen, from release date to casting and plot rumours.
This page will be updated regularly, so check back for more information.
---
When is the Downton Abbey movie release date? 
"We're thrilled to announce that Downton Abbey is coming to the big screen," the official Downton Twitter account declared in July 2018. "Film production begins this summer."
A tweet from star Hugh Bonneville suggested that the cinema release date had been pencilled in for 2019. Creator Julian Fellowes has already written the film's screenplay and filming will take place at Highclere Castle this summer.
2019 #DowntonAbbey pic.twitter.com/qYFZ7x1dBB

— Hugh Bonneville (@hughbon) July 13, 2018
---
Who will be in the cast for the Downton Abbey movie?
All our old favourites from the ITV series will be returning for the Downton Abbey film, including Dame Maggie Smith as the ever-cutting Dowager Countess, Michelle Dockery as Lady Mary, Hugh Bonneville as the Earl of Downton, and Joanne Froggatt as Anna Bates.
Delighted to announce we're getting the band back together! #DowntonMovie #DowntonAbbey pic.twitter.com/ie3K2xr3Iv

— Joanne Froggatt (@JoFroggatt) July 13, 2018
Laura Carmichael will return as Lady Edith, Lesley Nicol as Mrs Patmore, Allen Leech as Tom Branson, and Elizabeth McGovern as Lady Cora – with more names still to be confirmed.
One person who won't be returning however is Lily James as Lady Rose. She told People magazine: "My character Rose moved off to New York, so it would be far-fetched to bring her back. I would have loved to have come back for a scene, but for a movie, it can't be like a Christmas special and it needs to be a focused storyline. There was simply no space for Rose."
Ed Speleers has also let slip that he's not involved, telling Eamonn Holmes and Ruth Langsford on This Morning: "I haven't had the call about that… but Downton was a big part of my life. I met the mother of my children there [wardrobe director Asia Macey], and that place was sort of like a drama school for me in some respects. My career started there and it was a real melting pot with great actors like Hugh Bonneville and Maggie Smith, it was a great place for me to learn. That was a huge part of my life."
Is that a movie I can see ? #DowntonMovie #DowntonAbbey 💕 pic.twitter.com/Ko07aiiOCA

— Lesley Nicol (@lesley_nicol) July 13, 2018
---
When will the Downton movie be set?
Story details have so far been kept under wraps, but the return of the original cast suggests it could be set a few years after we last caught up with the Crawleys in 1926, with one film executive referring to the project as the "next chapter" in the family's story.
Focus chairman Peter Kujawski added, "Since the series ended, fans of Downton have long been waiting for the Crawley family's next chapter. We're thrilled to join this incredible group of filmmakers, actors and craftspeople, led by Julian Fellowes and Gareth Neame, in bringing back the world of Downton to the big screen."
---
How did the Downton Abbey TV series end? 
A lot happened at Downton Abbey between the death of the Grantham heir aboard the Titanic in 1912 and the series finale in the first days of 1926. So after six series on ITV, where did we leave our favourite (and least favourite) characters?
Lady Mary: Widowed eldest daughter Lady Mary re-married after falling for dashing racing driver Henry Talbot (Matthew Goode). He became stepfather to Mary's young son (and heir) George. By the end of series six Lady Mary was running Downton herself – taking over from her father – and was pregnant with Henry's kid.
Lady Edith: Finally found her happily-ever-after in the last Christmas special when she married Bertie Pelham, forming a family of three with her illegitimate daughter Marigold. She continued to defy society's expectations and forged a successful career in magazine publishing.
Anna and Bates: Finally had a baby – a son!
Robert and Cora: After his explosive projectile blood vomiting incident in series six, Robert took a step back from running Downton Abbey and the estate. His wife Cora (Lady Grantham) became hospital president.
The Dowager Countess: Maggie Smith's character Violet reluctantly ceded her hospital responsibilities to Cora. By this point she must have been about 103…
Tom Branson and Sybbie: Tom and his daughter returned from America to make Downton their home. He and Mary's husband Henry set up an automobile shop in York – named Talbot and Branson Motors.
Isobel Crawley: Now properly called Isobel Grey, or Baroness Merton, Matthew Crawley's mother took matters into her own hands when she decided to marry Lord Merton ("Dickie" Grey) against the wishes of his nasty daughter-in-law Amelia.
Carson and Mrs Hughes: The two of them finally got together and tied the knot, but poor Mr Carson developed palsy and had to retire. He was given a generous pension and an oversight role over his replacement, who is…
Thomas Barrow: Survived his suicide attempt, returned to Downton Abbey and stepped into Carson's shoes as butler.
Mrs Patmore: Set up her own bed and breakfast establishment.
Lady Rose: Went off to live in America with her husband Atticus.
Mr Molesley: Learnt to read, discovered he was actually pretty gifted, and left service to become a schoolteacher.
Daisy: Developed feelings for second footman Andy and then went off to live on the farm inherited from her short-lived first husband William.
---
What will happen in the Downton movie?
Admittedly we can't answer this question with any degree of accuracy seeing as no story details have been released yet. But will that stop us? No. Let's take a closer look at what we know – and enjoy a bit of speculation.
If the series picks up soon after the series six Christmas special, that puts us in 1926 – but it's more likely that we'll jump forward a few years to the very last years of the 20s or to the early 30s, a very interesting period in history.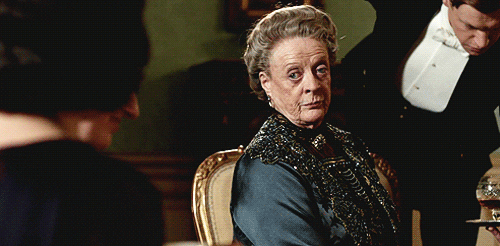 Downton has never shied away from touching on wider national and international themes (after all, Lady Edith's lover Michael Gregson was murdered by a gang of Hitler's brownshirts at the Beer-Hall Putsch).
But how will the friends and residents of Downton Abbey be affected by the Wall Street Crash in 1929 and the Great Depression? What will they make of the rise of fascism in Europe and the slide towards another World War?  And could we get as far as the death of King George V and his son's abdication in 1936 to marry American divorcee Wallis Simpson?
When it comes to the characters and their storylines, we're curious to see if Julian Fellowes will disrupt any of the happily-ever-after endings he gifted us in the series six finale. Lady Mary, Lady Edith and Isobel all married to men they loved; Anna and Bates started their own family; even Mr Molesley got to become a schoolteacher. It was smiles all round.
How do you move on from that? One obvious route would involve killing off a main character.
Fellowes has mastered the art of the tearjerking death and has been almost as ruthless as Game of Thrones' George RR Martin in taking the axe to show favourites. Fans will remember Matthew's untimely death in a car crash while merrily making his way home from meeting his newborn son, and will look back with sorrow on the death of Sybil from eclampsia after childbirth. Then there was war victim William, Matthew's lovely (but wet) fiancé Lavinia… the list goes on.
Could the Dowager Countess finally succumb to her impossibly old age? (No! Not Maggie Smith!) Or perhaps Robert will go, with huge knock-on effects for the entire family?
Watch this space…
---
---