The wackiest celebrations of Murray Monday
From obvious commercial stunts to the wackiness of fans, here are some of the ways Murray's millions have marked his win
Murray mania has taken the nation by storm — and for good reason, too. After a 77-year drought, Murray's Wimbledon win has finally brought the title back to the Brits, and that alone has caused much celebration. But forget the strawberries and cream or Pimm's, here are some more "interesting" ways your fellow #teammurray believers have been commemorating the coveted victory.
Morrisons becomes Murriwins
In a transformation quicker than Clark Kent can squeeze into his Superman spandex, supermarket Morrisons changed the signage outside of their Wimbledon branch to temporarily read "Murriwins."
Congrats to #Wimbledon Champion @andy_murray! How are you celebrating? We've given our store a special makeover: pic.twitter.com/qPSXy6IqIJ

— Morrisons (@Morrisons) July 7, 2013
102.5 Clyde 1 undergoes name change
No to be outdone, radio station 102.5 Clyde 1 has also changed its name to 102.5 Murray Won for the day. Broadcasts from 6 am to 7 pm replaced all mentions of Clyde with the new name as tribute to the champion. George Bowie said of the occasion, "Everyone at 102.5 Murray Won is incredibly proud of awesome Andy and that we now have our very own Wimbledon champion. We are all in complete awe of our local hero." 
Ladbrokes forgives and forgets
And there's even cause to celebrate for the non-Murray fans. British betting shop Ladbrokes was quick to offer free wagers of up to £25 for those rooting for Murray opponent Novak Djokovic. Ladbrokes' Jessica Bridge said, "It's cost us a packet but it's worth every penny seeing Murray finally get his hands on the Wimbledon trophy." The company will front the £250,000 promotion. Now that's an expensive act of forgiveness.
Murray fan jumps ship
News of the win sent one man literally over the edge with joy. A yachtsman and Murray fan took a celebratory dive into the sea from his friend's yacht, only to dislocate his shoulder and be rescued by the Cowes Royal National Lifeboat Institute.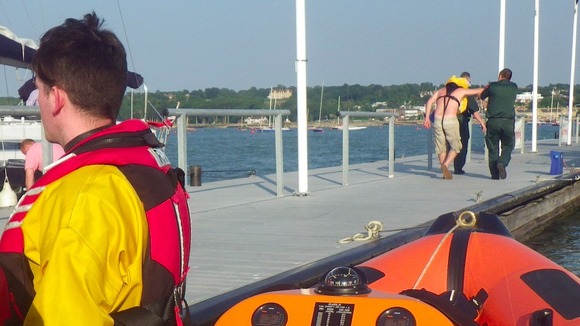 Andy Murray Squeezes Toothpaste
In a bizarre ode to the Wimbledon champ, a tumblr page called Andy Murray Squeezes Toothpaste finished off its series of Photoshopped gems from this year's Wimbledon matches where, you guessed it, tubes of toothpaste are magically fitted into Murray's hands. 
Scottish flag flies at Downing Street
Prime Minister David Cameron has already said that he believes Murray should receive knighthood for his Wimbledon win. To back it up, the two union jacks normally raised above 10 Downing Street has been replaced by the Scottish Saltire to support the player's Scottish roots.
Prince Charles urges Brits to "take the day off"
And of course, who's better at celebrating sports wins than His Royal Highness Prince Charles himself? Okay, it may not be the real deal, but we might as well make it a thing. Did you follow this advice?
Take the day off, Great Britain. Andy Murray Monday has commenced.

— Prince Charles (@Charles_HRH) July 8, 2013